Short version

Review of The Greek
The Greek is a pro-American betting company, which started operating on the betting market in 1996. Since the moment of its establishment and up to September 2011, the company's target market was North America, but the bookmaker accepted players from other countries as well. In 2011, when American government started to militate against gambling actively by confiscating domain addresses and accounts, the bookie had to move all its assets to Heritage Sportsbook. Over the years of operation, the company earned a reputation of an honest and reliable bookmaker.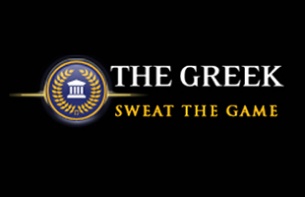 The Greek:
The Greek Highlights
American origins
Decent bonus program
The odds are above-average
Non-sport events available
Register and choose your welcome bonus!
Long version
Full The Greek Review
Quick menu
Below you can find some quick links to navigate around the article about The Greek.
Introduction
As any other American bookmaker, The Greek focuses on sports, popular in North America and USA in particular in its money line. These sports include American football, hockey, basketball, baseball, lacrosse, NASCAR and some other. Generally, the line has about 30 kinds of sport – from football to non-athletic events like politics, TV shows and so on.
The action line depth is on a decent level. The bookmaker gives about 30-40 positions to bet per sporting event. The most profitable matches have noticeably deeper line, for example, the last SuperBowl match had about 200 positions for betting.
The Greek's betting odds are at the average or above-average level. There's nothing surprising about it, because American market was very competitive back in the day, and every bookmaker tried to offer the best odds. The Greek bookie's margin differs and directly depends on profitability of a sporting event. The more popular it is, the less the margin is, and vice versa. On the average, the margin equals 7,5-8%. The Greek bookmaker gives 1,89 – 1,93 odds on equivalent events, and it's quite a high rate.
Live betting section includes only the most popular and topical sporting events, but they have a pretty wide action line. The odds in the live section change dynamically, according to what's happening in a match.
Pros/Cons
The Greek: What we like
Credible and honest enterprise
Good odds offered
Convenient and stylish website
Lots of deposit options
Interesting bonuses
High security level
Non-athletic bets available
The Greek: What we don't like
No other language versions, except English
No mobile applications
Mobile casino is not available
No telephone hot line or live chat
Bonus Offered by The Greek
The Greek has a separate section for its promos and bonuses. Firstly, there is welcoming first deposit bonus. Players have an opportunity to choose between two variants of it: it is either 100% bonus up to $100 or a 25% bonus up to $1,000. Another great promo is invitation bonus. If a punter invites a friend to the website, he'll get 20% cash bonus. Other interesting bonuses include 30% NBA cash bonus, pick 15 challenge and some more.
Mobile Betting
There is no mobile app available for betting, but The Greek can be accessed via website's mobile version. No downloads required, so users can bet directly via browser. The mobile website offers to bet on pre-match and live matches, enter an account and make changes to it. However, deposit and withdrawal options are currently unavailable but will be added in the future. The mobile website is supported by most of the platforms, including Android, iOS and Windows Phone.
No mobile betting is currently offered.
Mobile Casino & Poker
Unlike betting, The Greek does not provide an opportunity to experience their casino and poker via mobile devices. There is no separate mobile application available, nor there is access via mobile website. There is simply no such section on the mobile website, like casino or poker. To enjoy The Greek's casino entertainment, gamblers are going to have to use the desktop version.
The Greek Mobile Casino: The following devices are supported
(click to view all bookmakers supporting the device)
The Greek Mobile Poker: The following devices are supported
(click to view all bookmakers supporting the device)
Casino, Poker & Other Services
The casino by The Greek offers a great variety of gambling entertainment on their website. Newly registered players receive a welcome bonus up to 1100 US Dollars on their first deposit. The most famous and fan-loved table and card games like baccarat, craps, roulette, blackjack, Pai Gow poker, Video Poker, slot machines are available for gamblers. Poker has its own separate section, which includes tutorial for novice players, loyalty program and many other exciting features. The selection of poker versions is wide and includs Omaha, Texas Hold'Em, Omaha Hi-Lo and lots of others. Fans of the game should find it awesome.
The Greek offers the following extra services in addition to their sportsbook.
(click to view all bookmakers offering the service)
Screenshots of The Greek
Contact Details
Company Name: WS Processing Ltd.
Address: #1 Mangrove Way, M.B.F.Z.Freeport, Montego Bay, Jamaica W.I.
Support E-mail: support@thegreek.com
Telephone: No
Live Chat: No
Banking Options
You can use the following payment methods at The Greek
(click to view all bookmakers offering the payment method)
Deposit Options
Withdraw Options
Languages Supported
The Greek supports the following languages.
(click to view all bookmakers offering the language)
Conclusion
The Greek bookmaking company is a serious player on the betting market and would be great for all kinds of players, from novices to professionals, but it would be very hard for the latter ones. It has a number of advantages, but there are also some flaws. Anyway, only you should decide, whether to play here or not. We wish you good luck in your future sporting bets.
Register and choose your welcome bonus!