Bet on this summer's sporting events and you could win up to €10 000!
Added on 06 June, 2015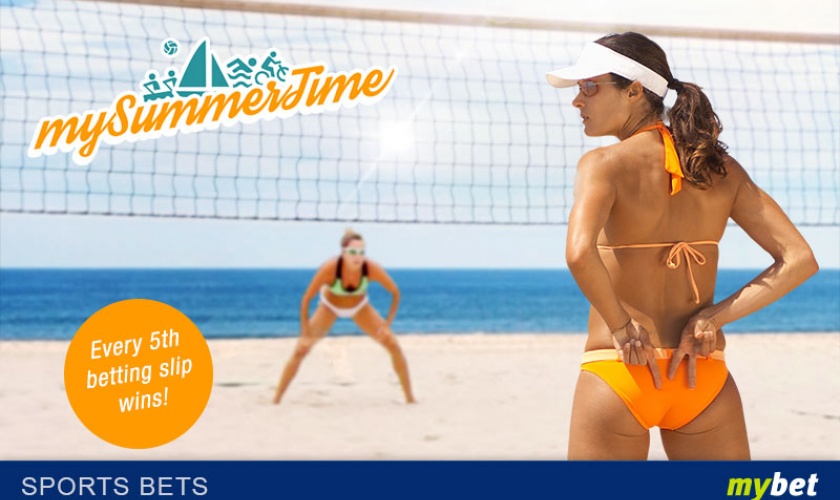 Bet on this summer's sporting events and you could win up to €10 000!
Every 5th bet will be holding a SummerCard!
Registration for SummerTime is not necessary, every player who places a bet during the promotion period (08/06/2015 until 26/07/2015) will be participating and is eligible to win our prizes.
Every 5th bet slip with a stake of at least €5 that was placed via desktop or via a mobile device (m.mybet.com) will trigger a SummerBet! After submitting your bet, an automated winning notification will pop up, after which you have to make the decision to opt for Weekly Winnings or SummerPoints. The higher the stake of your bet slip, the higher your Weekly Winnings or SummerPoints will be.
Increasing your number of SummerPoints will not only help you move higher up in the weekly rankings, your points will also count towards our Summer Leaderboard. You will be guaranteed a prize as soon as you have collected one SummerPoint. Aim for our main prize as the winner will receive a VIP season ticket worth €6000, to be paid in monthly instalments of €500 on your player account (first payment when the 2015-2016 football season kicks off).
On top of that we will reward the top 25 on a weekly basis by giving away prizes totalling a worth of €7000. Add everything up and you could be winning up to €10 000 this summer.
Weekly winnings are the accumulated points from Monday until Sunday and will be credited to the player account on Mondays.
An overview of our prizes and prize categories for our SummerTime rankings can be found here.
Mybet support team is more than happy to help you should you have any further questions. We hope you will have a great summer and we wish you the best of luck!
Terms & Conditions
* Only customers residing in one of the following countries are entitled to participate in this promotion: Germany, Greece, Austria, Switzerland, Luxembourg, Denmark, Sweden, Norway.
* Every 5th betting slip with a stake of at least €5 will trigger a SummerBet pop-up window after the bet confirmation. The customer then has the option to opt for SummerPoints or Weekly Winnings.
* The 5th betting slip will be picked chronologically from all qualifying bets placed by all customers of the participating countries. Submitting a system bet which consists of several bet slips will count as one bet.
* By opting for SummerPoints or weekly winnings, the customer accepts the terms and conditions of the promotion and agrees to receive winning notifications by email. The customer can click on 'Close window' in case he does not want to take part in the promotion. In that case the customer cannot claim any SummerPoints or Weekly Winnings.
* All claimed SummerPoints and Weekly Winnings will be displayed on the mybet website in chronological order. For privacy reasons, only the first name and the first letter of the last name will be shown.
* The mySummerTime promotion and the promotion account related to it are optimized for the latest versions of all major browsers. The customer is not entitled to claim any replacement winnings or SummerPoints should the winnings not be displayed correctly.
* Bets submitted via the mobile mybet website (m.mybet.com) do count for the promotion.
* Loyalty card customers are not entitled to take part in this promotion.
* The promotion can be changed or ended at any time without prior notice and no legal action can be taken.
* The customer is not entitled to any compensation should SummerPoints or Weekly Winnings not have been credited due to technical failure.
Category