Casual​ ​Connect​ ​USA​ ​coming​ ​to​ ​California's​ ​​Disneyland​®​ ​​Hotel​ ​this​ ​January
Last update: 13 November, 2017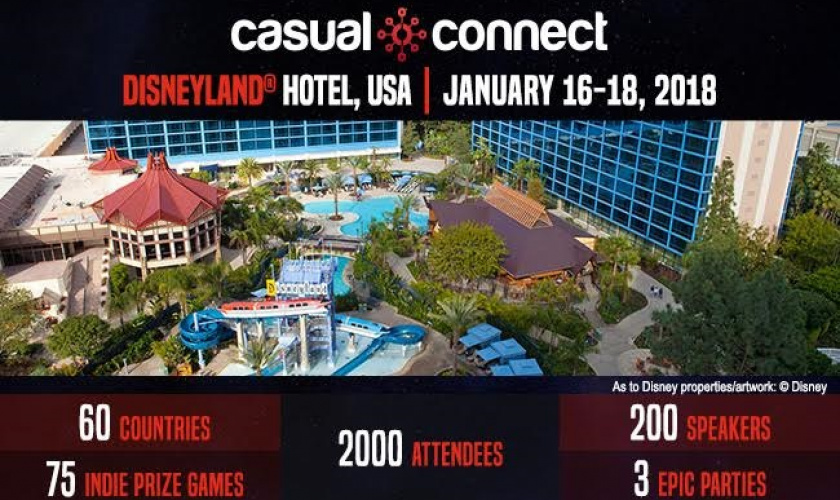 Over​ ​2,000​ ​games​ ​industry​ ​professionals​ ​expected​ ​to​ ​gather​ ​for​ ​conference​ ​January​ ​16-18
Join us at the whimsical Disneyland ® Hotel as experts and innovators dive into everything that makes games magical.
Casual Connect USA 2018
Location: Disneyland ® Hotel, California, USA
Date: 16 - 18 January 2018
Attendees: 2,000 gaming professionals
Speakers: 200 executives and experts
Indie Prize Showcase Teams: 75
Website: http://usa.casualconnect.org/
At Casual Connect USA 2018, you'll be able to use our exclusive Pitch and Match meeting system to network with games industry professionals like yourself. You'll also get access to three days worth of lectures, three large networking parties, and 75 of the world's best independent games with their innovative developers. The venue will also feature a large expo area where you can talk one-on-one with industry-leading companies like Appodeal, Insomniac Games, Kochava, Vungle, and Consumer Acquisition.
You will be able to learn from panels and presentations – featuring experts from Disney Consumer Products & Interactive Media, Netmarble US, Glu, Kongregate, Fox, Trigger, Mattel, Oculus VR, Double Fine, Insomniac Games, Kayak, Twitch, Atari S.A., DoubleDown Interactive, FunPlus, Product Madness, HitPoint Studios, Microsoft Xbox, GSN Games, and more – across our 14 tracks: Industry & Leadership, Licensing, Emerging Tech & Entertainment, CoreDump by Insomniac, Business of Games, Market Navigation, Kids & Family, Esports, Casino, Audio, LiveOps Connect by PlayFab, United in Diversity, United in Education: Workshop Series, and the IGDA Mentorship Summit.
FOR INDIE DEVELOPERS
Submit your game for the international Indie Prize USA 2018 scholarship program before November 15 at http://bit.ly/2hazMK8.
Casual Connect brings together the most talented and knowledgeable experts in the gaming field to further the industry with the best learning and networking opportunities for gaming professionals since 2005 four times every year. See the full schedule of Casual Connect events for 2018 at http://casualconnect.org/events.html.
You can register for your conference pass before prices go up on December 18 here: http://usa.casualconnect.org/joinus.html
For any questions please contact Yuliya Moshkaryova at yuliya@cga.global or on Facebook at https://www.facebook.com/yuliya.moshkaryova.